City Council Annexes Land into Decatur Where Apartment Complex will be Built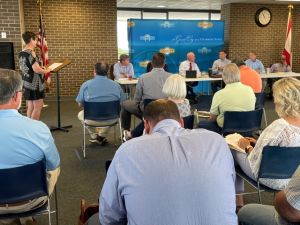 On Monday, the Decatur City Council approved the annexation of approximately 14.5 acres at 2900 Upper River Road. Landowner Andy Villarreal plans to spend around $25 million building a luxury apartment complex on the land with up to 175 units renting for $1,300 to $1,800 per month. Villarreal said annexing the property from the county to the city puts more restrictions on the building requirements that are nonexistent if the property remained in the county.  Supporters of the project say this will fill a desperate need for multi-family housing in the city.
Hickory Hills subdivision residents have opposed the apartment complex during Planning Commission and City Council meetings where both approved pre-zoning the property as R-4, multi-family residential. Residents and those in opposition to the annexation expressed concerns about how close the apartment complex will be to their homes, drainage and flooding issues and traffic concerns on Upper River and Old River Roads. The annexation was approved 3 to 1 by the council.
City officials said they are working to improve Upper River Road, particularly where it intersects with Alabama 67 and Old River Road to prevent congestion. During the meeting, the council also approved a right-of-way acquisition proposal from Wisener, LLC for $12,700 to provide appraisals, negotiations, relocation of business and project management for the Upper River Road project.