Legislative Update Forum Addresses Successes, Challenges of Recent Session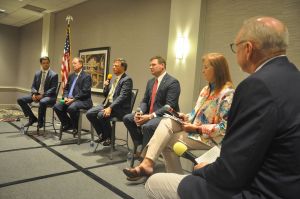 On June 30, the Chamber welcomed around 100 attendees to the annual Legislative Update Forum, which provided an opportunity for Chamber members and the business community to hear about the most recently completed legislative session, plans for the future of state government, and answers to previously submitted questions from the membership.
The forum, presented by Alabama Technology Network, included topics such as healthcare, education, workforce and talent development, public safety and a possible special session. The Chamber is thankful for the relationship we have with the Morgan County Delegation and the work they do on our behalf in Montgomery. A special thanks goes to Senator Arthur Orr, Rep. Terri Collins, Rep. Parker Moore, Rep. Randall Shedd and Rep. Scott Stadthagen. Proncey Robertson was unable to attend due to a scheduling conflict. The Chamber would also like to thank Keith Ferguson, Vice President for University Advancement at Athens State University, for being our moderator.
The Chamber has an active public policy committee that advocates for legislation to foster a healthy business community. Part of that work is the development of our public policy agenda, which our membership assists in developing. It is used as a guideline for positions taken by the Chamber on a host of policy issues.