Leadership Programming Wraps up Year with Graduations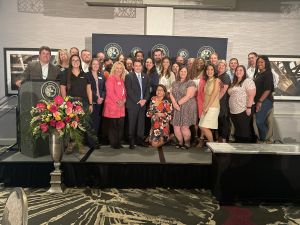 Excellence in Leadership, Edge Student Leadership and Equip Student Leadership each completed their program years with graduations, recognitions and an understanding they have an opportunity to become more engaged in their community.
The Chamber's Excellence in Leadership class, comprised of 28 members from across Morgan County, gathered on April 7, for Decatur Now and Then Day. The morning started with breakfast featuring updates from Mayor Tab Bowling and Morgan County Commissioner Randy Vest. John Holley reported on talent development and recruitment and Kent Lawrence provided the latest on residential development in our community. The group then took a bus tour of historic downtown Decatur featuring Judge David Breland, program coordinator of the City of Decatur's Historic Preservation Commission. Breland passionately told of tales from the Old State Bank to the Historic Train Depot & Railroad Museum and every building in between.
Excellence in Leadership met for Leading the Way Day on Thursday, May 5, which was the last class for 2022. They heard from Robert Hamilton with Launch 2035, Kelly Thomas with DDRA, Decatur City School Board of Education member Doug Bachuss and Pike Road Mayor Gordon Stone. The class was honored with a graduation ceremony at the Small Business Awards Celebration Luncheon on May 10th.  Chamber of Commerce weather prevailed on May 12th for the class's fundraising golf tournament which raised a total of $16,502.40. This is the most raised by an Excellence in Leadership class to-date. On June 8, the Excellence in Leadership class met in the Contractor Service & Fabrication, Inc. boardroom to present checks to the three recipients: CEOTA, The ARC of Morgan County and Clothe Our Kids. Excellence in Leadership is made possible by presenting sponsor Nucor Steel Decatur.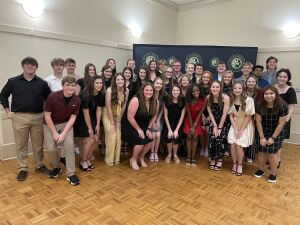 On May 4, Edge Student Leadership, the Chamber's eight-month leadership program for 10th and 11th graders from across Morgan County, celebrated their graduation with a dinner and ceremony hosted by Decatur County Club. Following team presentations of their community projects benefitting area non-profit agencies, Pike Road Mayor Gordon Stone shared a message with the students and parents about doing your best every day and making wise choices as young people. Later, Parker Stewart was presented with the Mary Shaw Ozier Spirit of Leadership Award. Voted on by the class participants, the award is in memory of a student leadership graduate who passed away soon after finishing the program. Ozier underwent cancer treatment during her school year, yet never missed a session of the 1999-2000 program. She finished the program in May and died the following September. Each year since her passing, participants have recognized one of their own in Mary Shaw's honor. Edge Student Leadership is made possible by presenting sponsor Nucor Steel Decatur, as well as award sponsor Horizon Point Consulting. Gold sponsors are Joe Wheeler EMC and the Morgan County Commission.
The Chamber's Equip Student Leadership program, geared towards eighth grade students who are interested in career paths in the skilled trades or careers requiring a two-year degree, met on May 5 to tour Contractor Service & Fabrication, Inc on Highway 31. Randy Woods, Structural Operations Manager for CSFCO, talked to the students about different jobs on the floor along with discussing roles and responsibilities of each area of the company. The students heard about welding, project management, drafting, sales, business development and human resource careers. They able to wear welding hoods and watch up close as an employee welded a structure. Each student was excited to get their first name initial cut out of metal at the end of the tour. After lunch, the group headed to Calhoun's Advanced Automotive Technology Academy. Lewis Nall, academy instructor, discussed several careers in high demand in the automotive industry. Lewis explained that each of his students who finish the academy has a job offer on the table before they graduate. The students were able to run a computer analysis on a Toyota Prius Hybrid and a Kia as a hands-on activity during the tour.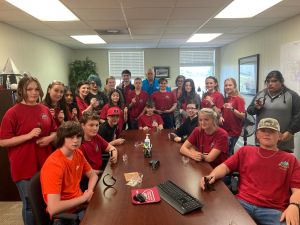 On May 12, the students met for their final session that started with a tour of Valley Rubber in Falkville. The students learned about various positions such as blasting, painting, welding, and mold maintenance throughout the tour. The group then headed back to the chamber for lunch and heard from the Morgan County Sheriff's Office. Officers discussed peer pressure, the dangers of drugs, vaping, alcohol and hanging with the wrong crowd. It was an open and safe place for students to ask questions and learn how they can choose to make a difference and be a productive citizen. We concluded the session by celebrating each student and recognizing them with a certificate of completion of the Equip program. Equip Student Leadership is made possible by presenting sponsor Nucor Steel Decatur.