City of Decatur Holds Public Input Meeting on the Sixth Avenue Streetscape Project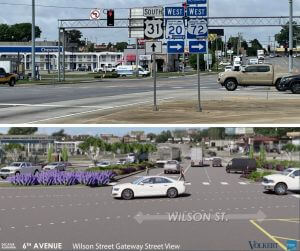 UPDATE: If you were not able to attend the public input meeting for the Sixth Avenue streetscape project on June 28, you have until Thursday, July 7 to fill out this form and email it to CommunityDevelopment@Decatur-AL.gov
PREVIOUS ARTICLE: The City of Decatur, in partnership with Volkert, Inc.'s engineering team, will host a public input meeting for residents regarding the Sixth Avenue streetscape project on Tuesday, June 28, from 4:00 p.m. – 6:00 p.m., at Turner-Surles Community Center at 702 Sycamore Street NW.
The input session will be a come-and-go event for attendees to share their thoughts on the streetscape project. Feedback will be discussed in a small group setting with a project liaison. Representatives of the City of Decatur and Volkert, Inc. will be available to answer any questions. The feedback received during the meeting will be used to put together a final plan that will be presented to the Alabama Department of Transportation for approval.
"This is a great opportunity for residents to express their thoughts and for us to listen directly to the feedback we receive," said City of Decatur Director of Development Dane Shaw. "This project is part of an exciting era for Decatur, and I look forward to the impact this will have on our entire community."
As a subgroup born from the Decatur-Morgan County Chamber of Commerce's strategic plan "The Partnership," the Chamber's Residential Development Task Team spearheaded the plan to develop an in-depth strategy to address not just appearances, but safety, walkability, burying utilities, efficient traffic flow and creating a positive front door to our city from the Tennessee River bridge. The group of city and business leaders worked on the plan for two years after several developers said the city needs to beautify the entrance to Decatur on the northern end of Sixth Avenue.
The plan focuses on a one-mile section of Sixth Avenue from Wilson Street to just south of Delano Park at Prospect Drive and includes lighting, sidewalks and streetscaping. It is being developed in collaboration with Volkert Engineering and the Alabama Department of Transportation. The roughly $7 million dollar proposal would be mostly funded by the Alabama Department of Transportation and would take approximately two years to complete.
The "gateway" to the city was a top community concern during the creation of the OneDecatur comprehensive plan in 2016 and was listed in the final plan. The revitalization project was presented to the Decatur City Council in February of last year.
To see the presentation of the plan, click here. For more information, please contact the City of Decatur's Community Development Department at (256) 341-4960.