State of Healthcare Address Provides Showcase for New Services, Technology and Physicians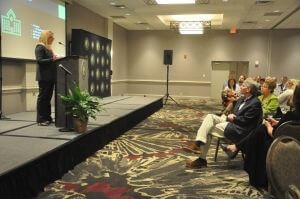 At the Chamber's annual State of Healthcare Address on May 25, members of the business community and elected leaders from across Morgan County heard from Decatur Morgan Hospital President Kelli Powers about the new services, technology and physicians now available to the community including a new ambulance service. Powers also provide an update on future plans for the hospital system and an update on the pandemic.
The event was made possible by Presenting Sponsor Decatur Morgan Hospital and Gold Sponsors Alabama Credit Union and Decatur Orthopaedic Clinic.
The availability of quality healthcare is a critical component in economic development, residential recruitment and a high standard of life in a community, and the Chamber is thankful for the leadership of the hospital and the Huntsville Hospital Health System for the long-term investment in Decatur-Morgan County.