Community Leaders Honored at Small Business Awards Celebration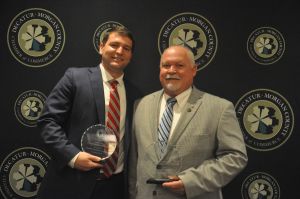 On Tuesday, three area professionals were honored by the Decatur-Morgan County Chamber of Commerce at the annual Small Business Awards Celebration for their leadership, creativity and commitment to our business community.
Keith Jackson, founder and owner of Jackson Plumbing, Heating & Cooling in Decatur, was named the Raymon Baker - John Cook - Ralph Jones Small Business Person of the Year; Jacob Ladner, CEO of Thirdmark Capital in Decatur, was named the Arthur Orr Young Professional of the Year; and Danielle Gibson, President and CEO of Decatur Morgan County Tourism, was named the Lynn C. Fowler Non-Profit Professional of the Year. The luncheon was held at the Doubletree by Hilton Decatur Riverfront.
Keith Jackson was born and raised in Hartselle and graduated from Morgan County High School. He earned an associate degree from Calhoun Community College and opened Jackson Plumbing Inc. in 1987. He added HVAC in 2016 and purchased Drain Pro in 2018. Keith's personal mission statement is to teach people not only a trade, but how to have a happy, successful life.
Keith currently serves on the Board of Directors for the Chamber and the North Alabama Better Business Bureau. He is vice president of the Kiwanis Club of Decatur. Keith's business was recognized as Best of the Best by the Decatur Daily in 2017 and received the Better Business Bureau's Torch Award for business ethics in 2021. Keith is married to Lori and they have three daughters: Ashley, Emily and Meagen and six grandchildren.
Jacob Ladner grew up in Decatur and attended Decatur Heritage Christian Academy. He then went on to attend the University of North Alabama. After graduation, Jacob started his career with Interstate Billing Service in Decatur. In his 11 years with the company, he grew to the position of Vice President - Sales and Client Experience, helping the company grow to $2.5 billion in annual sales.
In October of 2021, Jacob took on the role of Chief Executive Officer for Thirdmark Capital in Decatur. Jacob was also elected to the Decatur City Council in 2020, and currently serves as the Council President. He is also a member of the Kiwanis Club of Decatur. Jacob and his wife Erika have been married for 10 years, and they have three children: Bennett, Hallie, and Claire.
Danielle Gibson graduated from Brewer High School then attended The University of North Alabama earning a Bachelor's in Business Administration. She worked as an insurance agent and served as President of the Hartselle Area Chamber of Commerce before becoming president and CEO of Decatur Morgan County Tourism four years ago.
Since Danielle stepped into her current role, her creativity and vision have served the community and visitors. A few of her undertakings include the MoCo Cares Movement, the MoCo Mural Trail and becoming a Tennessee River Line community. She is a Decatur Morgan County Excellence in Leadership Graduate and a Rotarian. She currently serves as the Incoming Chairwoman of the Board of Directors for the Alabama Mountain Lakes Tourist Association. She also serves on the River Clay Fine Arts Festival Board of Directors and Celebrating Early Old Town with Art Board of Directors. She has been married to her husband, Jesse, for 16 years, and they have two boys, Noah and Cohen.
Winners of each award are selected from nominations submitted by the Chamber membership and evaluated by committees of past honorees. The event is made possible by Presenting Sponsor King Insurance Agency and Gold Sponsors Express Employment Professionals and Renasant Bank.
The Small Business Awards Celebration also served as "graduation" for the Chamber's Excellence in Leadership. The class spent the past 10 months as part of a leadership development program intended to connect business, non-profit and education professionals with community issues like healthcare, education, public safety, state and local government, tourism and sociology. The program, presented by Nucor Steel Decatur, has graduated around 1,200 participants since starting more than 30 years ago.
Also during the event, the Chamber recognized members who within the last year reached a milestone year of service in the Morgan County business community.
50 YEARS: Corum's Building & Farm Center, Decatur Orthopaedic Center, Stovall Marks Insurance, Inc., Sue-Jac, Inc., The Perry Company, Inc. and Wells & Tate Electric Company, Inc.
55 YEARS: Beltline Electric Motor Repair, Construction Services, Inc., Decatur Optical Dispensary, Huntsville International Airport, Mental Health Center of North Central Alabama, Inc., Radiology Group, P.A., Tennessee River Valley Association and Valley Rubber, Inc.
60 YEARS: Decatur Shopping Center, Mid-South Sales, Inc. and The Boeing Company
65 YEARS: Aramark Uniform Services, Inc., Nola +VanPeursem Architects, PC, Pugh Wright McAnally, Inc., Simpson's Florist, Thompson Tractor Company and Whitmire, House & Propst, LLC
70 YEARS: Family Security Credit Union
75 YEARS: Calhoun Community College and Goodwyn Mills Cawood, LLC
80 YEARS: Tennessee Valley Pecan Company
85 YEARS: Joe Wheeler Electric Membership Corporation and South Limestone Cooperative
90 YEARS: Decatur Church of Christ
100 YEARS: Edward Jones – Mitchell Owens and Peck-Glasgow Agency, Inc.
110 YEARS: The Decatur Daily
115 YEARS: SA Recycling
120 YEARS: Lamar Outdoor Advertising
135 YEARS: AT&T Alabama
150 YEARS: Harris, Caddell & Shanks PC
200 YEARS: Athens State University