Cerrowire Breaks Ground on New Plant in Morgan Center Business Park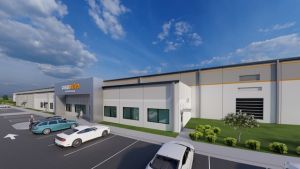 Cerrowire held a ground breaking on a new $100 million, 270,000 square-foot manufacturing plant on May 4, that will produce Metal Clad cable used in most types of building construction. The company will be the first tenant located at the Morgan Center Business Park in Hartselle. Cerrowire already has a plant not far from the new site on Thompson Road.
Cerrowire is a leading manufacture of copper building wire, and the state-of-the-art facility will incorporate advanced systems and equipment that will allow the company to further its commitment to high quality and cost control. Jeremy Nails, president and CEO of the Morgan County Economic Development Association, called the expansion a win for the entire county.
The plant will employ more than 80 employees when it opens in January 2023, with plans for that number to increase to more than 120 employees within three years.
"We are looking ahead to an even stronger future by extending our product offerings to position Cerrowire and its retail partners and electrical distribution partners for continued success," said Cerrowire President Stewart Smallwood.
Cerrowire recognized Morgan County and Hartselle leadership, members of the Morgan County Economic Development Association, Alabama Department of Commerce and the Tennessee Valley Authority for their support and commitment to growth in Morgan County.
"Cerrowire's decision to locate an additional manufacturing facility in Morgan County speaks to the preparation of our workforce, the quality of life in our region, and the continued strength of our economic future," said State Senator and Morgan County Economic Development Association Chairman Arthur Orr.
Read the full news release from Cerrowire here.