Judge Charles Elliott Explains how Morgan County Drug Court Works at Breakfast & Biz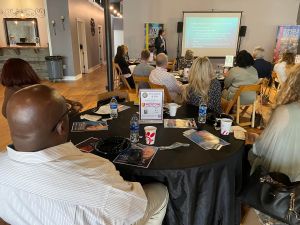 At the Chamber's Breakfast & Biz development event on April 21, Morgan County Judge Charles Elliott explained how Morgan County Drug Court works, why it's needed and how the business community can get involved.
The Morgan County Drug Court was formed in 2008 at the Morgan County Courthouse. Circuit Judge Charles Elliott is over the program. One of the main goals of the program is to reduce recidivism in drug-related felonies. Elliott says his goal is to help addicts reclaim their independence, and help them lead healthier lives. Elliott is always looking for new partnerships with community organizations and volunteers to help expand the program's reach.
According to research from the National Institute of Justice, drug courts reduce recidivism and drug use among participants.
Thank you to presenting sponsor Redstone Federal Credit Union, and host sponsor The Magnolia Room.
The Chamber's Breakfast & Biz professional development training and networking session provides ongoing support for our local business partners. Stay tuned for our next Breakfast & Biz event, which will be in August.