ProsperityPAC Endorses Primary Election Candidates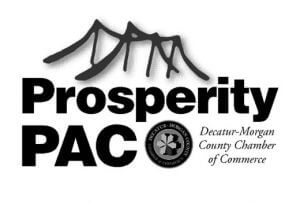 Based on past records and candidate understanding of the Chamber's mission and public policy agenda, the Board of Directors of ProsperityPAC voted to endorse and financially support the following candidates in the upcoming statewide primary election on Tuesday, May 24.
• Morgan County Commission - District 2: Randy Vest
• Alabama House - District 4: Patrick Johnson
ProsperityPAC is the political action committee of the Decatur-Morgan County Chamber of Commerce and is dedicated to the support of candidates who have taken responsible positions on issues involving private enterprise and on significant economic, public affairs, and social issues affecting Decatur and Morgan County.
"These two candidates reached out to the ProsperityPac for support. We endorse both Randy Vest and Patrick Johnson because their values and track record both align with the Chamber's public policy agenda and represent our mission of economic growth and development," said Crystal Brown, secretary/treasurer of ProsperityPAC and president/CEO of the Chamber.
After already serving three terms as Morgan County District 2 Commissioner, the ProsperityPAC believes Vest has proven he's willing to work with other commissioners and local leaders to keep our economy moving in the right direction by creating and recruiting jobs and supporting our local business community.
"As a former business owner for over 20 years, it is an honor for the business community to affirm the work of the Morgan County Commission," said Vest. "May we all continue the successful teamwork that makes Morgan County and its cities and communities a great place to live, work and play."
As a former chairman of the board for the Decatur-Morgan Chamber of Commerce and a local businessman, the ProsperityPAC believes Johnson has proven his ability to lead and will represent the area well in Montgomery.
"It is a true honor to receive the endorsement of ProsperityPAC. As a small business owner, I understand the challenges that we all face to ensure that our businesses thrive," said Johnson. "As your next Representative, I am committed to being a vocal advocate and fighter for the business community."
ProsperityPAC was established by members of the Decatur-Morgan County Chamber of Commerce who believe in order to promote the maintenance of the free enterprise system, there should be an opportunity for widespread participation in the political process by members of the Chamber, their employees and others who may wish to take part. This separate fund was set up to promote and facilitate the receipt of voluntary contributions in support of various candidates for election to state and local offices in Alabama.