Chamber Hosts State of the City Forum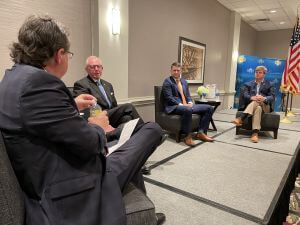 On April 12, the Chamber welcomed Mayor Tab Bowling, Council President Jacob Ladner, Council President Pro Tempore Carlton McMasters and moderator Dave Hargrove with AT&T Alabama to the annual State of the City Forum for an opportunity to share with the Decatur-Morgan County business community highlights of the last 12 months and what's ahead for the River City. Presented by Gateway Commercial Brokerage and held at the DoubleTree by Hilton, the panel answered questions about the importance of collaboration and partnership, and discussed positive revenue numbers that will go towards quality of life services for our city.
One of the big topics of discussion was residential development which Council President Jacob Ladner said is vital to the city's growth and everything they do should support that vision. Mayor Tab Bowling also mentioned several infrastructure projects in the works such as the Highway 20 overpass, renovations to the city's entrance on 6th Avenue and improvements to help traffic flow.
The Chamber's public policy initiatives are a critical part of the work we do to improve our business community and quality of life. We are thankful for our relationship with the mayor's office, the City Council and the entire City of Decatur team.