Chamber Trip to Montgomery Connects Students, Business Leaders and Legislators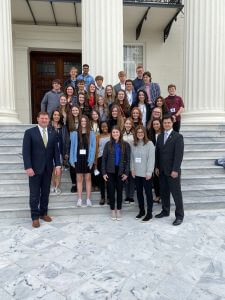 On March 8-9, Chamber members, community leaders, elected officials, and members of the Excellence and Edge Leadership programs traveled to our state capitol of Montgomery to visit with legislators, tour exhibits telling the story of our state history and learn more about our state government.
The Excellence class started their two-day trip with a tour of the state Capitol and then visited the Dexter Avenue King Memorial Baptist Church in downtown Montgomery to learn about the history of the church from tour guide Wanda Battle. Following floor debates and observing both the House and Senate, the group took part in a Q&A session with members of the Morgan County Delegation that included Sen. Arthur Orr, Rep. Terri Collins, Rep. Parker Moore, Rep. Scott Stadthagen and Rep. Proncey Robertson.
Wednesday morning, David Cole, Senior Vice President of Governmental Affairs for the Business Council of Alabama, was the breakfast speaker at the landmark Farmer's Market Café. Afterwards, Excellence toured the National Memorial for Peace and Justice and The Legacy Museum. Edge Student Leadership joined Excellence at the State House with Clay Redden, public information officer for the Alabama House of Representatives, where he discussed the process of bills becoming law. Both groups enjoyed lunch at the RSA Plaza Terrace and heard from Houston Blackwood about the Innovation Center coming to Decatur. Group pictures were made on the Capitol steps as Edge continued their day in Montgomery and bid adieu to Excellence. Excellence is presented by Nucor Steel Decatur. Gold Sponsors are City of Decatur, Shawn D. Garth, Realtor and Lifepoint Church.
Edge Student Leadership, made up of more than 30 tenth and eleventh graders from across Morgan County, arrived in Montgomery on Wednesday morning beginning at Rosa Parks Museum, toured the State Capitol then joined the Excellence group at the State House to hear from Clay Redden. After lunch and the all-important group picture with Excellence in Leadership. The Edge class experienced Dexter Avenue King Memorial Baptist Church with Wanda Battle who jumped on the bus to further discuss the Civil Rights Movement in Montgomery. Edge is presented by Nucor Steel Decatur. Gold Sponsors are Joe Wheeler EMC and the Morgan County Commission.
The presenting sponsor of the Montgomery Trip was Nucor Steel Decatur. Gold sponsors were Contractor Service Fabrication, Inc. and Shawn D. Garth, Realtor and Excellence class member. Thank you to Valley Budweiser, the annual sponsor for our Public Policy Program of Work which includes our Montgomery Trip.