How Personalities Affect the Work Environment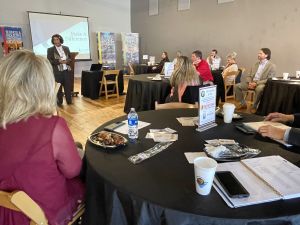 At the Chamber's Breakfast & Biz development event on February 10, Ruthie Jones, a Licensed Independent Clinical Social Worker with Eagle Counseling, shared a presentation on how knowing your personality and how personalities affect the work environment can help you develop healthy relationships, mutual understanding and respect with co-workers.  Attendees completed a personality profile and Jones shared an interactive presentation on how our traits fall into four categories represented by a turtle, monkey, lion, and camel. We all work with people that have personality traits different from our own and knowing how to recognize these traits can help us in the work environment where you need all four personalities on your team.
These personality types are described in Dr. Larry Little's book "Make A Difference: In the Lives of Those You Love, Live with, and Lead". Click here to learn more about these personalities and how it can help develop your leadership skills.
Thank you to presenting sponsor Redstone Federal Credit Union, gold sponsor The Decatur Daily and host sponsor The Magnolia Room.
The Chamber's Breakfast & Biz professional development training and networking session provides ongoing support for our local business partners. Stay tuned for our next Breakfast & Biz event, which will be on May 19.