Career & Workforce Expo Highlights Career Paths, Opportunities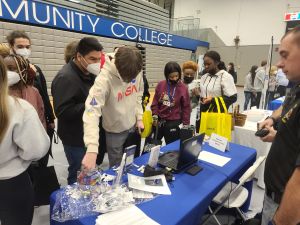 On February 8th, more than 800 high school students from six school systems in Morgan and Limestone Counties attended the annual Career & Workforce Expo. The event was held at Kelley Gymnasium on the Calhoun Community College Decatur Campus. More than 50 local business and industry partners in high demand careers spoke with the juniors and seniors throughout the day about job opportunities and what types of education choices they need to make to be able to fill those positions.
"We've brought in all types of high school students and every vendor I've talked to today has said they've had wonderful foot traffic so a lot of young people being exposed to possible career pathways, possible higher education pathways so were so excited about this. All these companies are local. They are good, high paying, high demand jobs," said Calhoun Community College President Jimmy Hodges. "We live in one of the fastest growing areas in the state of Alabama. Jobs just keep being created here and these young people need to hear about these jobs. There are great possibilities for them that they may not have ever thought about. That's why an event like this is so important."
The day-long event was a partnership between the Chamber, the Morgan County Economic Development Association, the Greater Limestone County Chamber of Commerce, and Calhoun Community College. Thank you to our presenting sponsor Jackson Plumbing Heating Cooling, our golden ticket sponsor Gobble-Fite Lumber Co. Inc. and gold sponsors Joe Wheeler EMC, Mazda Toyota Manufacturing, and Sparks Energy.