Broadband Access: Let's Close the Digital Divide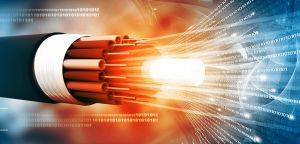 As we continue to recover from the impact of the pandemic, time has given us the chance to reflect on the long road we have walked as a state and a community.
We have seen - and continue to see - the challenges of getting clear messages to audiences in need about public health and economic recovery. School systems had to reinvent nearly overnight the process of educating our next generation of leaders while keeping a safe distance at home. Workspaces transitioned from cubicles to kitchen tables, and grocery shopping made you rely on someone to select the freshest bananas for your curbside pick-up order. Families had to learn how to celebrate holidays with video conferencing where "zoom" was a noun, a verb and an adjective. And loved ones welcomed new life and mourned the passing of others by simply holding up their smartphone. It was and still is a rollercoaster we're riding together.
The thread that ties all those pandemic experiences together is connectivity. While distant from one another, our lives had to continue in the best way possible by still being in community with our neighbors. And it's hard to imagine the past year and a half without reliable and affordable broadband access being more than a VPN or a Face-ID unlock away, day or night.
And while the last year crystalized the importance of connectivity, it also reminded us that we have much work to do to bridge the digital divide so that all Alabamians have access to broadband. Challenges, while frustrating, can teach us lessons if we're willing to see the problem, and this Chamber is thankful to have two members working toward the goal of more access for more people.
In mid-2020, Joe Wheeler EMC launched FlashFiber from the idea that everyone should have the opportunity for internet access, regardless of where they live. Because of the rural nature of Joe Wheeler's service area, there are some areas that have little to no access to modern internet service. High-speed internet connection has become as essential as electricity was years ago, and the pandemic has shown that to be true. Without reliable high-speed connections, rural communities have struggled to keep up with the changing ways modern America goes to school, does business, and even entertains itself. Over the next several years, Joe Wheeler will continue to build out their service until their more than 43,000 members all have access. Organizations investing in rural communities help close the digital gap, which – among other benefits – pays dividends in business recruitment and educational outcomes for children.
While Joe Wheeler focuses on establishing its service areas in Morgan and Lawrence Counties, our partners at AT&T are moving the needle and addressing statewide needs. In Alabama from 2018 to 2020 alone, AT&T has invested more than $1.5 billion in wireless and wireline networks. These investments have improved availability, reliability, coverage, speed and overall performance for residents and businesses in the state, especially in rural areas as part of their involvement in the FCC's Connect America Fund with their Fixed Wireless Internet service. This past April, AT&T announced a $2 billion, three-year commitment to help bridge the digital divide through low-cost broadband offers, participation in the Emergency Broadband Benefit program, and community investment.
On a larger scale, the American Rescue Plan also provides additional relief to address the continued impact of the pandemic on the economy, public health, state and local governments, businesses and individuals. Under the plan, Alabama state, county and other municipal governments will receive more than $3.8 billion – funds that offer a unique opportunity to deliver new and improved broadband connections to unserved and underserved communities in Alabama.
Closing the digital divide will be possible when public and private sectors work together to ensure the right policies are in place. Advocating for expanded access is good for business, good for community development, and good for our neighbors who for too long relied on Facetime to replace over-the-fence fellowship.
This post is the third in a four-part series focusing on infrastructure and the impact it has on our business community. Information in this post was provided by valued members and partners Joe Wheeler EMC and AT&T. We are thankful for their generosity and expertise.